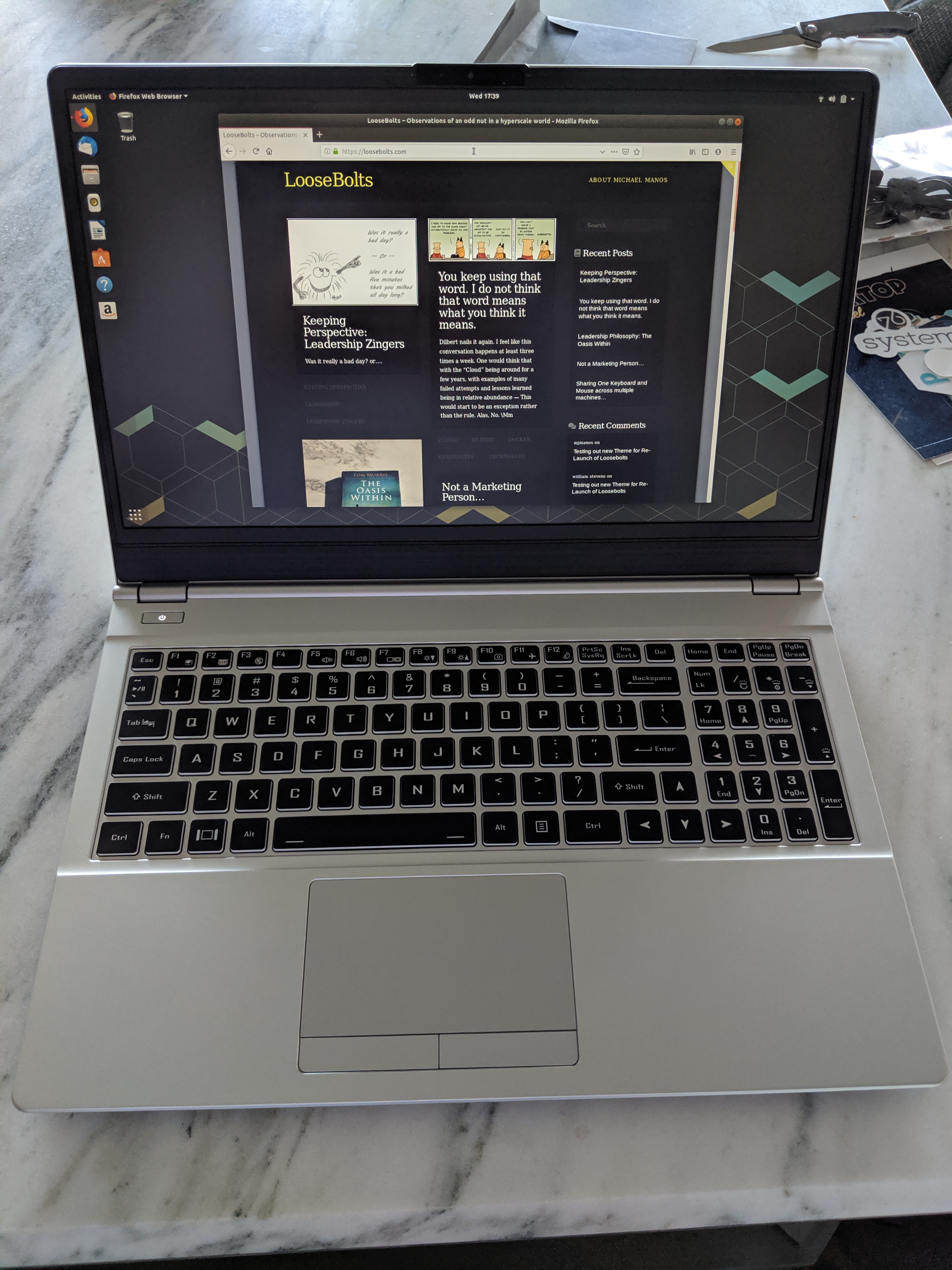 To a casual observer the compute technology inside my home might look like a giant confusing stew of various platforms, operating systems, and hardware. We of course have Windows, OSX, various Linux flavors (Ubuntu, Mint, CentOs, even MX and Arch!), laptops, servers, home built gaming desktops, tablets, and more. It really boils down to the various tech and brand preferences by family members or the functions they are taking in the home computing environment.
As long time blog followers know my personal preference for my primary machine is a Linux based laptop. I have done other posts on the process to specifically re-purpose laptops to this end, searches for the perfect pre-built Linux options, the challenges and opportunities that Linux based mobility gives you and more. In fact I did a quick look through the blog archives and my last such Linux-Laptop type post occurred back in November 2013. Which is pretty incredible. Why? That blog post from November 2013 was about my unboxing my brand new System76 Gazelle. Which means for the past 6 years this beautiful and trusty machine has seen some pretty heavy and constant use. Countless business and family trips, long evenings in front of the television, barbecues, and countless other hostile environments and it has simply held up. A six year run and only now is it starting to show and feel its age. Its still in beautiful shape and has held up like a champ. The only issue I had with it was that at one point the Lithium battery on it died and would not take a charge. I was certain that this would be the end of the machine…but System76 let me know that they had spare batteries in stock and I was back in business in no time at all.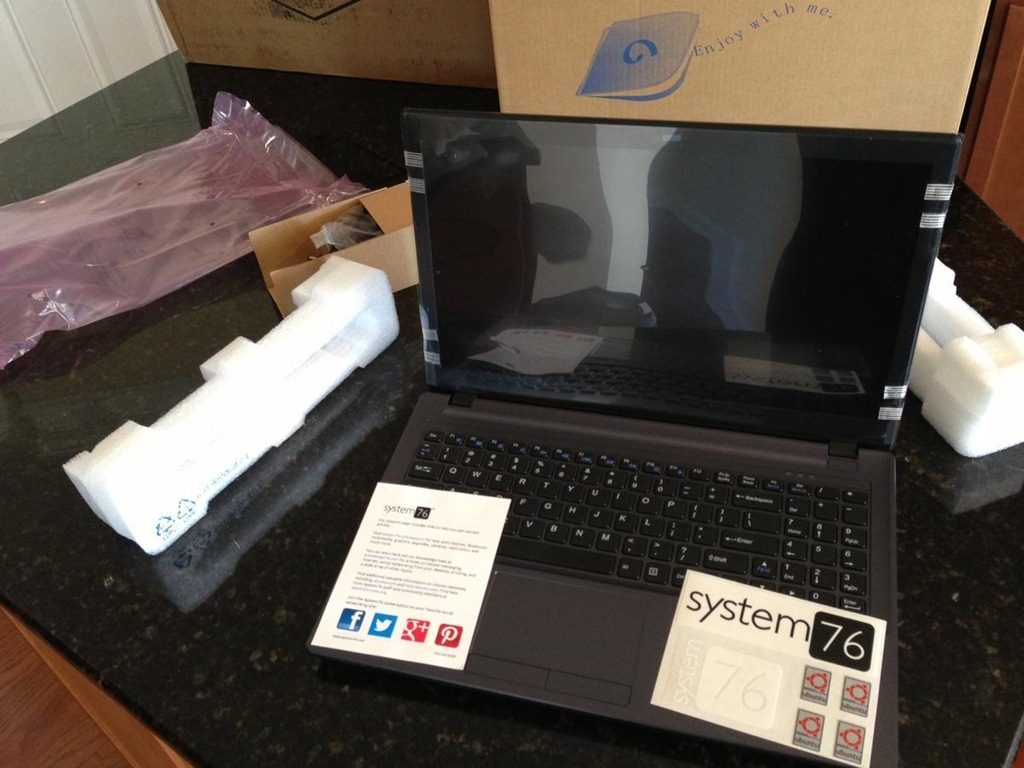 Alas, nothing can resist the passage of time, and the time has finally come to refresh my machine. If I am being honest, there was really only one option for me in this evaluation. A track record like my Gazelle could not be ignored. Sure I could try and go through the effort of building a new one. Or do a search and bake-off similar to the one I did over six years ago to find the best option. I even did some half-hearted looking of what was out there, but in my mind I knew where I was going to go. Yup, you guessed it. Back to System76. This time I snapped up a loaded Darter Pro.
I was incredibly excited when it arrived and thought I would do a quick unboxing post with initial thoughts. So here we go!
The Arrival
The new Darter Pro arrived in a rather plain looking box. That is until I opened it up where it exploded with personality. Take a look!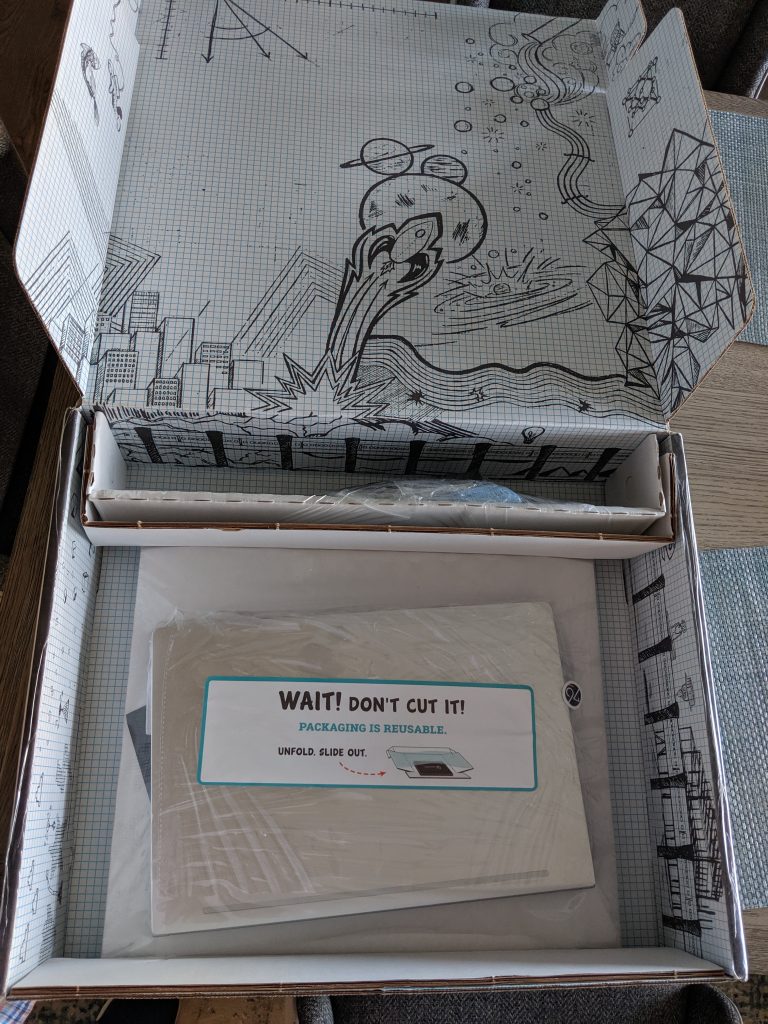 I was actually a little taken back by what I perceived to be a lack of adequate protection in the shipping. It looked like the machine was wrapped in celephane and then thrown into the big empty box. But after really inspecting it, I found that there was literally ZERO chance that this sucker would move around. I thrashed the box back and forth, but it would not move. It was in there solid as a rock.
Interfaces Galore!
One of the primary things that attracted me to this model was that it seemed to buck the laptop trend of reducing the amount of options in which to interface with other devices and media. The Darter Pro is perfect for a bunch of uses and has alot of versatility as it comes with a wide assortment of interfaces including:
(1) USB 3.1 Type C (with Thunderbolt 3)
(2) USB 3.0 Type A
(1) USB 2.0
(1) SD Card Reader
(1) Gigabit Ethernet
(1) Intel Wireless A-C
(1) Bluetooth 5
(1) Stereo Speakers
(1) Microphone
(1) 2-in-1 Audio Jack for Microphone/Headsets
(1) 2-in-1 Audio Jack (Mic/S/PIDF Optical)
5.1 channel HDMI
HDMI Video
MiniDP Video
and a 720P Webcam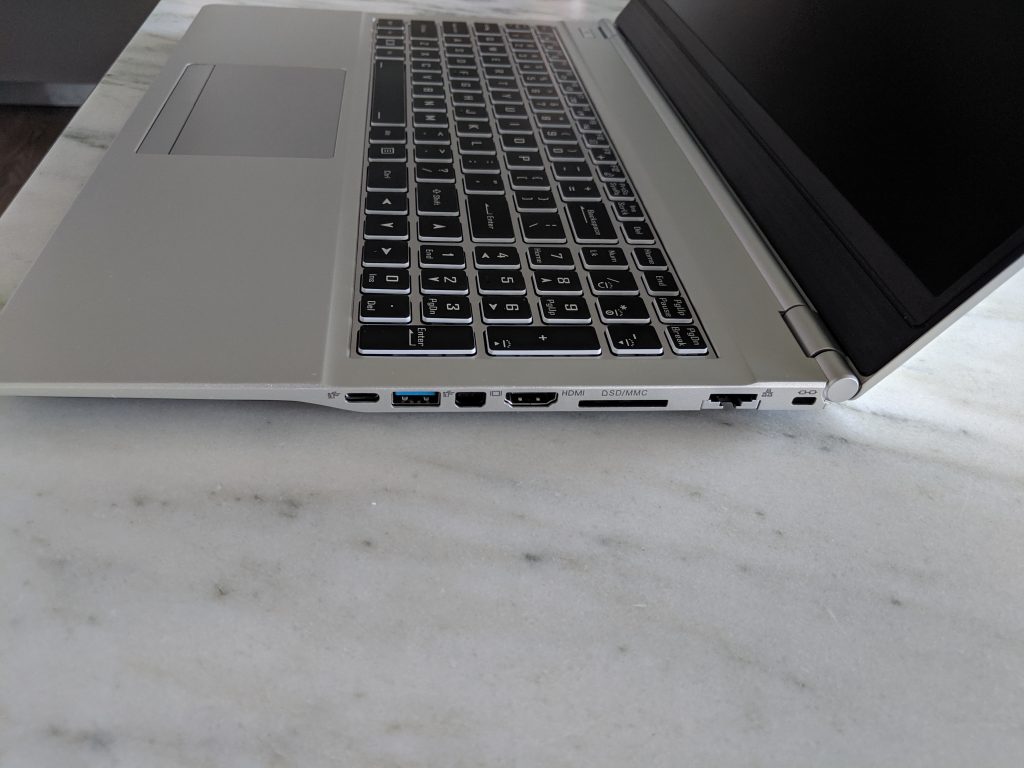 After spending a good portion of the evening getting it properly configured to my personal preferential oddities we were ready to rock and roll. I had read some complaints about the keyboard, but I actually think the feel and layout is pretty well spaced and positioned. Then again I do have ape-like hands.
I will keep you posted on how my adventure with the DarterPro moves forward. If you have any questions are thoughts feel free to shoot me a question. I can tell you that as I sit here writing this post(on my Darter), I am incredibly happy with the machine and am very happy with my purchase.
\Mm