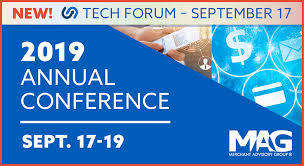 Next week I will be attending the 2019 Merchant Advisory Group Annual Conference in Scottsdale, Arizona. This year they are also kicking off the inaugural Tech Forum and I have the distinct honor and privilege of hosting the keynote event with an all-star panel consisting of technology leaders from Walmart, McDonalds, Walmart, and Best Buy.
We will hit a wide variety of technology topics ranging from traditional infrastructure questions, changes in regulatory controls and their impacts on technology, emergent requirements such as 3D Secure 2.0, alternative payment and cryptocurrency topics and more. I am hoping the session in particular and the topics covered across the larger Tech Forum agenda and Annual Conference Event will tease out the changing technology landscape and the growing importance that tech has come to play across the acquiring spectrum.
Hope to see you there!
EDIT: You can find my quick read out from the event here.
\Mm